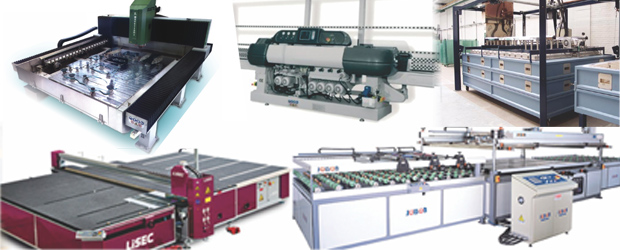 TEMPERING PLANT from Tamglass, Finland
We are operating one of the world's most technically advanced Glass Toughening Plant HTF-SUPER from Tamglass, Finland..
Specially designed for Soft coated Low-E Glass.
Capable to toughen glass up to the maximum size of 2500mmx4500mm ranging from 3.5mm to 25mm of thickness.
FEATURES
Top Quality
Optimized Heating System Combined with programmable top convection heating method ensures uniform temperature on the glass surface, thus giving minimum waviness.
Technically Advanced
HTF-SUPER is equipped with the most advance "Pyrometer" that measures the temperature of coated glass surface and maintains the quality of reflective glass as per the parameters of Glass Supplier.
Quality Check
It toughens clear float, tinted & soft coated Low-E glass with emissivity up to 0.02 as per the international acceptance standard, for Heat Strengthen Glass ASTM C 1048 and EN 12150. Quality analysis done through the quality monitoring system (QMS) ensures that the equipment follows specified safety Glass standards, which is an inbuilt system in the machine.
GLASS CUTTING LINE by LISEC, AUSTRIA
One of the best in the world, It is used in cutting glass in block size and other specific shapes. This jumbo size machine can cut the glass up to the size of 3210mm x 6000mm and the thickness from 4mm to 25mm.
CERAMIC FRIT LINES by JUISUN, PRC
These advance screen printing lines are an innovative way to decorate glass for exterior as well as interior applications. These can create unlimited designs from a masterpiece for art lovers to the most sophisticated patterns defining your lifestyle. The size starts from 300mmX300mm and maximum up to 2500mmX4500mm.
INSULATING GLASS LINE by HANJIANG, PRC
It is a high- tech laminating line, capable of using "SUPER SPACER" along with conventional spacer for making insulating glass. It accurately positions step insulation up to 50mm with or without "Argon Gas" with Structural Silicon. The size ranges from minimum of 200mmx450mm and goes up to 2450mmx3150mm, covering a thickness up to 70mm. It has been designed to assemble up to three layers of insulating glass.
FLAT / BEND LAMINATION GLASS LINE by HANDONG, PRC
Laminated glass is made of two or more pieces of glass panes, which are laminated with "PVB" or "SentryGlas" interlayer under high temperature and pressure. These glasses are used for architectural purposes like facade, railings, decorative and security including bullet resistant glass. It comes in a maximum size of 2500mmx4880mm and thickness may vary from 6.38mm to 80mm.
EVA LAMINATION GLASS LINE by TEKNO KILNS, ITALY
Now with this technique one can laminate many types of material between two glasses like fabric, vinyl sheet and even metallic wire mesh. It offers colourful, clear and opaque glasses to bring aesthetics to your decor. This laminated glass is used for decoration with excellent anti-penetration strength. It comes in the size of 1700mmx3000mm and thickness varies from 6.38mm to 60mm.
WATER JET CUTTING MACHINE by DARDI, PRC
This CNC Machine is used for accurate and precise cutiing, making shapes and writing on Glass. It can cut glass, ceramic and steel up to 25mm with no rough edges, burrs or jagged ends. It can process a maximum
FLAT GLASS EDGING MACHINE by Z. BAVELLONI, ITALY
GEMY-6
GEMY-9
B75CN,
All these machines are fully automatic CNC machines for flat glass bevelling and edging with side arrises and 45° chamfer. They are fully automatic, 9 spindle straight line flat glass edging machine. These machines are designed to meet high productivity and quality requirements.
GLASS FURNACES by TEKNO KILNS, ITALY
These furnaces are used for making bend glass/glass fusion, that are used to create glass bowls, glass wash basins, glass platters and other fire fusion products.
CNC VERTICAL DRILLING MACHINE
It drills perfect round shaped holes and counter sunk holes to the accuracy of 0.05mm for large sized glasses.